Many individuals may have experienced Dunkin Refreshers, so they know what these items look like, where they are available, and the costs associated with such things. However, many may need help understanding what Dunkin refreshers are. For them, this blog write-up provides vital information regarding Dunkin refreshers. 
These items are drinks with ice cubes and flavored fruit concentrates. Fruit concentrates usually contain extracts from green tea. They are also known to have Vitamin Bs. Dunkin refreshers are therefore caffeinated as well as full of energy.
In this context, refreshers are preferred by those who don't like coffee. As per reports from Dunkin, the refreshers have a sub-200 calorie value. They are prepared without using artificial dyes and flavors. Due to this reason especially, Dunkin has become a popular health drink in society.
The refreshers have a fruit-concentrate base. Besides, it may have coconut milk or green tea. As far as Dunkin refreshers are concerned, they are available in two flavors. These include the Peach Passionfruit and the Strawberry Dragonfruit.  
Do Dunkin' Donuts refreshers have caffeine?
Dunkin is a non-coffee-based refresher drink. There are different types of such refresher drinks, and they include the Dunkin' Donuts refreshers. Such refreshers do have caffeine in them.
Though coffee is not utilized in such refreshing drinks as an alternative to coffee, green tea, along with vitamin B, is used in such refreshment drinks. As discussed, there are mainly two variants of this refreshment drink, and they are
1) Strawberry Dragonfruit and  2) Peach Passionfruit. The 16-ounce cup of Strawberry Dragonfruit or Peach Passionfruit is known to contain as much as 66 mg of caffeine.
At the same time, the large 32-ounce cup is known to have 132 mg of caffeine. In this context, medical experts believe that caffeine intake should be below 400 mg to avoid health-related hazards like sleeplessness, nervousness, restlessness, diarrhea, and vomiting. 
What type of refreshers does Dunkin have?
This section of the blog write-up discusses the different type of refreshers that Dunkin have, and they are listed as follows:-
Among the lemonade, refreshers are included in the following:-
Mango Pineapple
Peach Passionfruit
Among the coconut, refreshers are included in the following:-
Mango Pineapple
Peach Passionfruit
Strawberry Dragonfruit
Pomegranate 
Other Dunkin refreshers include the following:-
Strawberry Dragonfruit
Peach Passionfruit
Mango Pineapple
Apple Cranberry
Strawberry Lemonade
Blueberry Lemonade
Are There Any Other Ingredients in Dunkin' Refreshers?
The Dunkin refreshers mainly consist of fruit juice, green tea, and considerable amounts of Vitamin B and C. The Dunkin refreshers are available in different flavors. The customer can get the drinks in a variety of flavors (fruity). Some refreshers consist of coconut milk in them.
These refreshers are energy drinks that can be used instead of beverages like coffee. Since these refreshers have permissible caffeine content (below 400 mg) and hence these drinks are very safe to use. 
A well-prepared Dunkin Donut refresher is known to contain ingredients like green tea with ice, B-Vitamins, and fruit flavor concentrates.
Green tea with ice:-Every refresher uses a base. Green tea mixed with ice is a common base that is utilized in a Dunkin Donut refresher.
Fruit flavor concentrates:-The fruit flavor concentrates that are available with a refresher depend on the flavor ordered by the customer. The fruit flavors are available in different forms of syrups, and that means that the fruit flavors are sweet as well as tasty. The majority of the fruit flavors are artificial. Some types of flavors are natural.
B-Vitamins:-The Dunkin Donut refreshers may contain a mix of B-Vitamins. The mixture may contain B5, B3, B6, and B12 vitamins, and that makes the refresher a healthy drink. The blend of vitamins that are added to a refresher drink adds nutrition to the drink without altering the taste of the drink.
What are the Benefits of Dunkin' Refreshers?
The Dunkin refreshers have several health benefits. Some of the important benefits associated with this type of refresher are listed as follows:-
These refreshers are meant for those individuals who don't like coffee. Therefore, such refresher types serve as an excellent alternative to coffee. 

These drinks are very much energetic and refreshing as they have caffeine content. 

These drinks are available in delicious flavors.

The Dunken refreshers are mainly prepared using green tea extracts and Vitamin B. 

The Dunken refreshers are known to boost the body fat burning by releasing anti-oxidants and improving the functions of the brain.
These types of drinks are low in calories; they are light. Most refreshers are available with calorie values lower than 200 calories. 
The refreshers are devoid of artificial colors or flavors. They have a concentrated base that is very much fruity, diluted with coconut milk or green tea based on the customer's taste and preferences. 
Are There Any Side Effects of Dunkin' Refreshers?
Research revealed that consuming Dunkin refreshers may be unhealthy as several side effects are associated with such drinks. The side effects are listed as follows:-
Headaches
Tremors and shakings
Palpitations
Restlessness and agitations
Insomnia
Chest pains
Gastro-intestinal issues
The numbing or tingling sensation of the skin
Respiratory issues
Dunkin refreshers contain caffeine, sugar, taurine, Vitamins B, Inositol, Ginseng, Glucuronolactone, artificial sweeteners, L-Carnitine, and L-Theanine. Branched Chained Amino Acids. 
The tolerance for caffeine varies from one individual to another. Higher consumption of caffeine may lead to the following:-
Enhanced blood pressures
Panic attacks and anxiety
Heart palpitations
Enhanced urination
Diarrhea
Nervousness, dizziness, irritability, nausea
Allergies like rashes, breathing difficulty, trouble sleeping, vomiting, hives
Fatigue and headache
Painful withdrawal symptoms
Dunkin refreshers are also known to contain considerable amounts of sugar. Sugars may be harmful if they are consumed in excess. Some of the side effects of consuming too much sugar include the following:-
Decay in tooth
Causes obesity
Boosts chances of diabetes (type-2)
Causes spike in insulin increases blood sugar
Sugar causes addiction
Dunkin refreshers contain Ginseng. This substance is also known to cause some side effects. Excess Ginseng in the blood may cause symptoms like edema, low blood pressure, vertigo, palpitations in the heart, insomnia, headaches, fever, bleeding in the vagina, euphoria, mastalgia, suppression of appetite, and miscarriage. 
Dunkin refreshers are known to consist of BCCAs and which is a component often present in healthy- drinks and is known to help individuals recover their respective muscles post an exercise session. Though, the BCCAs are not that harmful when taken in moderate doses. However, some reports claim that the consumption of BCCAs can cause health issues like pain, nausea, and headaches.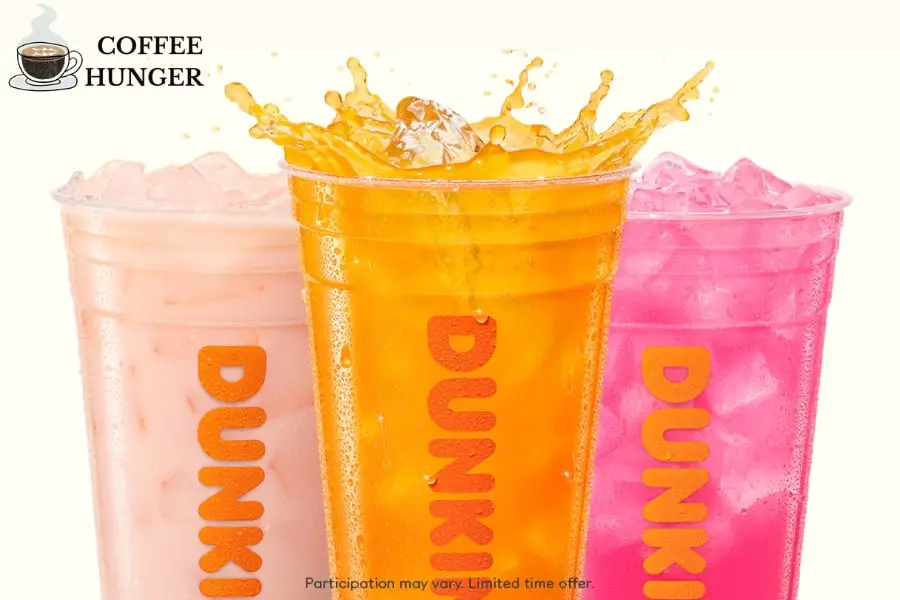 How many calories are in a Dunkin' Donuts refresher?
Different types of Dunkin refreshers are available. Dunkin refreshers are energy drinks with caffeine content. These drinks are available in various sizes. The 16-ounce cup is known to contain 32 mg of caffeine. At the same time, the 32-ounce cup is known to contain 66 mg of caffeine.
The Dunkin Donuts refresher that has a strawberry flavor in it has 130 calories. The medium-sized refresher drink is known to contain 130 calories. At the same time, the large-sized refresher drink is known to contain 170 calories. 
Do the Refreshers at Dunkin have sugar?
The Dunkin refreshers contain sugars along with caffeine, ginseng, taurine, Vitamin B, artificial sweeteners, and inositol. In this context, consuming limited amounts of this refresher can be helpful. However, if an individual consumes too much amount of this drink, then it can adversely affect the health of that person. 
The presence of excess amounts of sugar in the blood can cause obesity issues in that person. Besides, extra sugar can adversely affect the tooth of that person, causing it to decay fast. Sugar is also the main reason behind the occurrence of Type-2 diabetes.
Suppose the person consuming the energy drink (Dunkin refresher) is not cautious and consumes too much amount of the drink. In that case, it can cause a spike in the insulin and sugar levels, thereby causing an unhealthy feeling. Besides, consuming excess amounts of sugar can cause addiction.  
Do Dunkin refreshers have artificial sweeteners?
Yes, sugar-free Dunkin refreshers are known to contain artificial sweeteners. These sweeteners often act as substitutes for sugar. It is understood that artificial sweeteners in energy drinks have minimum side effects. In this context, many may want to know what artificial sweeteners are. In brief, these are synthetic sugar substitutes. 
Common artificial sweeteners incorporate Sucralose, Aspartame, Xylitol, Saccharin, and Acesulfame K. As far as the use of artificial sweeteners is concerned, there are no such restrictions. The various artificial sweeteners utilized in Dunkin refreshers are believed to be safe. 
Conclusion
Dunkin Refreshers contain caffeine, varying levels depending on the type and size. While the small sizes may have lower caffeine levels, the large ones contain higher stimulant levels. For those looking to enjoy a flavorful beverage without caffeine, Dunkin's Dunkaccino is an ideal choice.
FAQ
Q1) what drink has the most caffeine at Dunkin?
Ans: Dunkin' Donuts offers a variety of Refreshers that are all caffeine-free. However, their Iced Coffee and Espresso Drinks do contain caffeine. The Iced Coffee has the most caffeine out of all the drinks at Dunkin' Donuts, with 140mg per 16oz cup. The Espresso Drinks have less caffeine, with 75mg per 2oz shot.
Q2) do Dunkin coolattas have caffeine?
Ans: Yes, Dunkin' Coolattas do have caffeine. The amount of caffeine in a Coolatta depends on the size and flavor of the drink. For example, a small Caramel Coolatta has 96 milligrams of caffeine, while a large Vanilla Bean Coolatta has 180 milligrams of caffeine.
Q3) is a Dunkin refresher an energy drink?
Ans: Dunkin refreshers are not energy drinks. They are flavored beverages made with water, sugar, and natural flavors. While they do contain some caffeine, more is needed to provide a significant boost of energy.
Q4) what drinks at Dunkin donuts have no caffeine?
Ans: There are a few different types of Dunkin' Refreshers, and not all have caffeine. The Original Refresher has green coffee extract and no caffeine, while the Berry Bursting Refresher has guarana and caffeine. The Strawberry Dragonfruit Refresher also has guarana, but it may have less caffeine than the Berry Bursting Refresher. The Mango Passion Fruit or Pineapple Coconut Refreshers have green coffee extract and caffeine if you're looking for a caffeinated option.
Q5) do Dunkin lemonade refreshers have caffeine?
Ans: Dunkin' Donuts offers a variety of lemonade refreshers, and it's essential to know which ones contain caffeine and which don't. The Original Lemonade Refresher includes 35mg of caffeine per 16 fl oz serving, while the Pink Lemonade Refresher and Strawberry Lemonade Refresher do not contain any caffeine.
Also Read:
Does Dunkin' Chai Contain Caffeine?
How much caffeine is in Dunkin Donuts' iced coffee?
Can You Use Nespresso Pods in a Keurig?
How much Caffeine is in Mcdonalds' Iced Coffee?