Everyone worldwide wants to start the day with a cup of coffee. Different coffee blends are available in the market with different tastes and flavors. People can wake up quickly and drink perfect coffee in the morning. Breakfast blend coffee is the most popular option for many individuals today.
People never stop and wish to search for what makes breakfast blend coffee so special. It is a popular coffee blend variation. With the advent of technology, you can understand more about it and differentiate blend from others and unique attributes. 
Coffee lovers need breakfast blend coffee because of medium to light roast, which increases caffeine concentration. It manages a good flavor profile that attracts customers very much to discover appealing coffee in the morning. 
What is a breakfast blend coffee?
If you need a special roasted and flavored coffee for the morning, you can choose breakfast blend coffee. It is a suitable type of coffee for breakfast. Such a coffee blend comes with a great combination of light to medium roasted coffee. 
A proper mixture brings smooth and balanced sweet and citrus flavors. Mild roast lets people discover a flavorful and smooth morning kick. Breakfast blend coffee is a good solution to begin the day with ideal coffee.
Breakfast blend can design specially for coffee lovers to drink in the morning possibly with breakfast also. Many coffee companies focus on the best flavor that coffee drinkers like. Every company makes a blend with consistent flavor. 
What does breakfast blend coffee mean?
People often rely on the breakfast blend to enjoy good coffee. A breakfast coffee blend is a good choice for a coffee lover who realizes light roast. Blend has a diverse flavor profile that makes them good for the morning. The breakfast blend is effective for light to medium roast coffee with a stunning flavor profile.
When drinking coffee, people feel a slightly acidic and balanced aroma. It appeals to every coffee lover. The blend is bitter in taste and never overloads taste buds. The manufacturer makes a blend with two or more beans. They prefer beans from different flavors and attributes and mix them in diverse proportions to develop new flavors. It comes with different blends like
It is a commonly light roast with an acidic profile and contains high caffeine content. The coffee blend is usually smoother and gives a bright flavor.
House blend comes with one or multiple types of beans. People want to use house blends for their reliable flavor throughout the year. Many restaurants and cafes provide freshly brewed coffee to customers.
The dark blend is full of flavor and chocolate appearance and contains less caffeine. Dark roast beans can roast for a long period to make a full-bodied and rich cup of coffee with molasses and cocoa.
Is breakfast blend coffee stronger?
The breakfast blend is available in lighter roast and is not strong like regular coffee. It is completely more acidic for its massive caffeine content and lighter roast. People can kick start the day with breakfast coffee. It is balanced, mild, and straightforward. When you brew the coffee properly, it has a kick.
The main objective of the breakfast blend is to manage a gentle roast level anywhere between medium and light roast. Beans are likely to be bitter compared to light roast and much stronger body. Some people may also think that strong-tasting roast coffee maintains more caffeine. 
Does breakfast blend coffee have more caffeine?
Coffee is the perfect form of drink that is available in diverse varieties. Breakfast blend coffee makes with special beans and is popular for its delicate flavor, sweetness, and fruitiness. Breakfast blend coffee comprises more caffeine compared to other forms of coffee.
Whether you search for coffee with more caffeine, you can switch to espresso roast or dark roast. Roasting requires a long time and more caffeine take out from beans. The amount of caffeine in the blend may also vary based on how it brews. 
When brewing breakfast coffee blend with French pass, it needs more caffeine than whether brewed with a coffee maker. You may also understand how much caffeine content is in the blend through the coffee bean label or request professionals to check the content at the shop. 
Is breakfast blend coffee a light roast?
Yes, the breakfast blend is a light roast. Roast levels aid in transporting acidity and bright flavor within coffee beans. Light, smooth, delicate flavor notes and balanced flavors make them so special among coffee lovers. 
It is the best choice for acidic light roast coffee with a citrusy and clean flavor. The breakfast blend is responsible for a tasty aroma and citrusy flavor to begin the day more enjoyable.
How to make breakfast blend coffee?
Making morning blend coffee never requires a fast and hard recipe. People must keep two to three light to medium roasts. A packet of light roast and medium roast must purchase from the shop. You can make the ideal cup of coffee for breakfast with these things.
Selecting the right roasts is very important for making an effective blend. Coffee lovers buy essentials properly to begin preparation quickly. You can follow a step-by-step process to create ideal roasts.
Place the coffee mixture on the roaster.

Let them roast as light. 365 to 401 Fahrenheit is the ideal temperature for the roasting coffee mixture.

Strain blend into a bowl and include milk

Blend them for three to five minutes
After that, you can serve them to your family. Brew breakfast blend does not need any machine when making it at home. It is easy to pour boiled or hot water from the kettle into a cup that properly manages the coffee. Perfect skill and knowledge are important to roast coffee.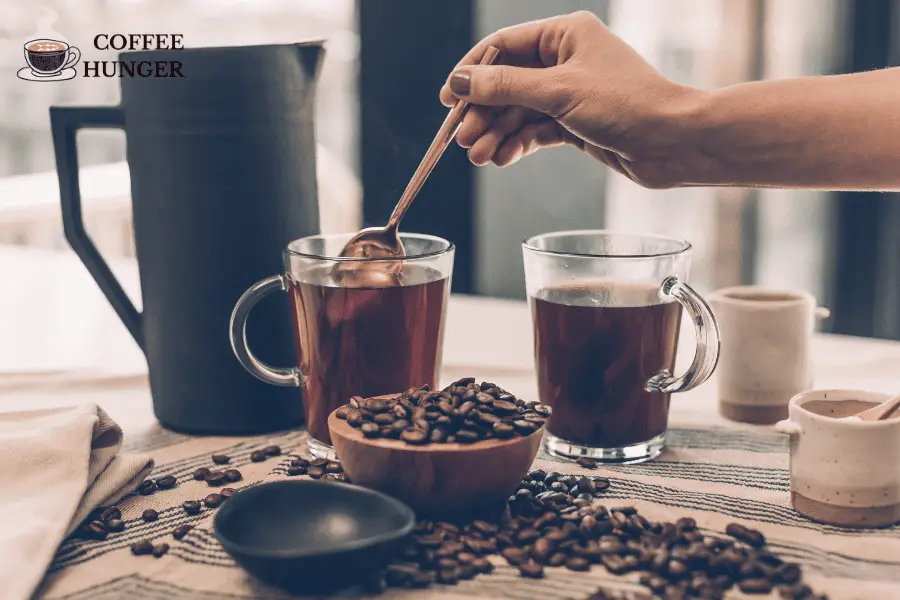 What is the difference between breakfast blend and regular coffee?
There is nothing that makes breakfast blend vary from regular coffee. The main fact is that the breakfast coffee blend contains light to medium roasts with bright acidity and a smooth and balanced flavor. It does not contain unique coffee beans or anything. 
Breakfast blend maintains a taste profile, and people choose over other blends. It is also available with darker roast and may flavor with hazelnut or cinnamon to boost the flavor profile. The blend is milder in flavor compared to other forms of coffee. It is good for individuals to enjoy the taste.
Shop provides a different range of blends from top brands. You can select the best one based on your taste and preference. Breakfast blend makes with different methods to decide how flavor adds and how it will be strong. It requires robusta and Arabica to make coffee.
5 the best breakfast blend coffee
Breakfast blend coffee is the best choice to begin the day with heavy caffeine. In the market, one can discover different coffee blends with unique tastes and flavors. When you buy an ideal blend, you can focus on buying guide. Here are the top picks for the best breakfast blend coffee.
Breakfast blend medium roast
The blend is ideal for bright, smooth, and community-focused. People explore great smoothness in the blend. Hazelnut and honey-tasting notes make the blend so popular and attract people very much. It is good for people who love the savory flavor. 
A rich and citrusy breakfast blend is a widely popular coffee option. Ground coffee and K-cup variations make products stand apart from others. Fruity and rich notes give a smooth coffee experience. The overall taste of this blend is very exciting and pleases coffee drinkers. Many individuals love the rich and smooth taste. You can wake up in the morning with fresh coffee. 
Breakfast blend light roast
Breakfast blend light roast is popular because of its bright taste. The blend is fully fruity and never contains acidic. One can begin the morning with a smooth note. 
You can opt for medium roast K-cup pods if you need a slightly darker breakfast blend. You can get it as ground coffee. When making coffee, you can use an ounce set on the machine. 
It is the best blend to explore a perfect mixture of nutty and floral. You can enjoy a great taste combination when utilizing this blend.
What beans are in breakfast blend coffee?
Breakfast blend coffee comes with a vast range of beans and combines to make a flavorful and unique brew. People love to use this blend for a light, clean taste, and are well-balanced. Coffee can make with a stunning mixture of robusta and Arabica beans.
Arabica bean provides the perfect flavor to coffee. Robusta gives body and bitterness to coffee. Arabica bean takes out from the coffea Arabica plant and comes in diverse flavors like Panamera, Villalobos, Kona, typical, and others. With it, a breakfast blend can make with cinnamon and hazelnut.
Robusta brings you coffee with a bitter taste. It often employs an espresso blend for stunning crema production. The cream layer is thicker and more resistant compared to Arabic. So you can understand interesting facts about and choose the ideal blend for flavored coffee.
Conclusion:
The above information is useful for coffee lovers to choose the perfect blend. It is the best way to try a new type of coffee. Breakfast blend coffee is a safe option due to its flavor. It is popular among people for being smooth, balanced, bright, acidic, and appealing to anyone's taste. Such coffee blend mixes coffee beans from different origins to make the constant flavor. 
FAQs:
Is breakfast blend the strongest?
Ans: The breakfast blend is a lighter roast compared to others. It is more acidic due to its high caffeine content and lighter roast. 
What blend of coffee has less caffeine?
Ans: Decaf coffee comes with less caffeine than others. It has ninety-seven percent caffeine-free and is a good substitute for regular coffee.
What does starbucks breakfast blend coffee taste like?
Ans: Starbucks breakfast blends coffee taste like sweet with hints of acidity that bring brightness and makes the body pleasant and light.
Which is a stronger breakfast blend or medium roast?
Ans: Medium roast acts as a house blend. The flavor is sweeter and deeper rather compared to the breakfast blend. Medium roast is stronger contrast to the breakfast blend.
Is breakfast blend coffee sweet?
Ans: Of course, the breakfast blend is rich in aromatics combined with sweet citrusy acidity, and different things like brown sugar, chocolate, and vanilla develop a balanced flavor.
Also Read:
Can You Put MiraLAX in Coffee?
What is Dutch Bros White Coffee?
How Many Tabelscoops of Coffee for 12 Cups?