Suppose you are a caffeine lover and always look to try something new and exciting. In that case, you can elevate your coffee experience with a cup of Dutch Bros white coffee.
White coffee has become popular among netizens in the last few years. Still, it came into existence one or two centuries back. Among coffee lovers, Dutch Bros is quite a popular name as it is the coffee chain responsible for popularising white coffee.
If your taste buds love the taste of coffee or you are simply curious about Dutch Bros white coffee, this article is for you. We will try to answer all the questions regarding Dutch Bros white coffee. So, let's get started over a cup of freshly brewed coffee.
What is Dutch Bros White Coffee?
Dutch Bros White Coffee is an indulgent coffee beverage that is available at Dutch Bros store, which is a popular drive-thru coffee shop chain in the western United States.
This White Coffee creamy concoction is made with espresso, cream and sugar for a sweet and smooth flavor. It's one of their most popular and beloved drinks among youths, offering a hint of sweetness without being overly heavy or sugary.
Dutch Bros coffee is made using high quality white beans sourced from around the world to create a rich espresso base. The creamy texture comes from its unique blend of cream and sugar which create a velvety consistency that's sure to satisfy any coffee craving. Dutch Bros White Coffee has become increasingly popular due to its convenience factor – you can grab one on your way to work or school without sacrificing taste or quality.
So if you're a coffee lover looking to try something special next time you're in line at Dutch Bros, try out their White Coffee! You won't regret it!
How they Make Dutch Bros White Coffee?
The colour of white coffee heavily depends on the temperature and time of the roasting of coffee beans. Coffee beans get roasted at a comparatively low temperature (325℉) to coffee beans' average roasting temperature to obtain the dark brown colour of coffee beans.
Moreover, the roasting time gets also reduced to half. As the roasting progresses, the green coffee beans slowly become white, which is when the roasting stops. Makers don't wait for the coffee beans to turn chocolate brown.
Due to roasting in low heat, the beans become hard to crack. That is why a specific grinder is used to make the coffee powder. The roasting technique of these coffee beans may differ depending on the coffee brand you choose. But how they prepare remains almost similar in every case, just like here we are talking about Dutch Bros white coffee.
The milk and ground powder of lightly roasted coffee beans will make a perfect cup of white coffee. Dutch Bros has been serving this flavoursome earthy flavour with a hint of caffeine for over a decade now.
The basic formula is simple. The amount of coffee added in a cup will be more than the added water, and after adding these two ingredients, you should pour milk and ice into that mixture.
What is the Caffeine Content of Dutch Bros White Coffee?
The amount of caffeine determines how strong your cup of coffee will be. The roasting period sets the amount of caffeine in coffee beans. More caffeine will burn when you roast the coffee beans for a prolonged period. Thus, when they are roasted until they become dark brownish, they become less caffeinated. Usually Dutch Bros coffee have 130 mg of caffeine.
There is a myth that a cup of white coffee carries almost 50% to 70% more caffeine than the light, medium, or dark coffee we consume daily. But it is safe to say that a cup of white coffee contains more caffeine than your regular cup. There is almost 5.4 to 5.7% more caffeine in Dutch Bros white coffee in comparison to any other variant of coffee. So, you will not taste much difference between white coffee and regular coffee.
Pros and Cons of Dutch Bros White Coffee
When you replace your dark coffee with white coffee, you should know how this change will impact your daily life. So, here we are presenting a list of benefits you can get from drinking Dutch Bros white coffee, followed by the disadvantages of the same product.
Pros
Regular intake of white coffee reduces the chance of a person's body getting affected by deadly health issues such as cancer and stroke. 

Adding adequate milk to your coffee milk will help you to enhance the fat-burning procedure of the body.

White coffee makes you attentive and, alongside that, keeps the skin hydrated and smooth.

If someone contains a cup of Dutch Bros white coffee, you will experience a surge in your concentration as you become more alert. Besides, you will not share any signs of dizziness, which is common in consuming caffeine-related products regularly. 
Last but not least, Dutch Bros white coffee is also known to work like magic if someone has type 2 diabetes. Even patients dealing with depression have also hugely benefited from the consumption of white coffee.
Cons
Like any other product, Dutch Bros white coffee has its own disadvantages.
If you often experience high blood pressure levels, you should not. In that case, consume white coffee excessively as it is known to cause an increase in human blood pressure. 

You should never drink more than 400 gm of white coffee daily. Consuming more than that will invite serious health issues in men and women.
Caffeine is directly related to the production of stomach acid. If you already suffer from health issues such as acid reflux, you should not abuse a drink like white coffee. Enhancement in the stomach acid level because of white coffee will lead to stomach ache and heartburn. 

As a pregnant woman, you should never drink white coffee as it negatively impacts the embryo's development. It can even cause miscarriage.
Is it Possible to Customise Dutch Bros White Coffee Drinks?
Demand for customised products has increased exponentially over the past few years. And if you are wondering whether you can customise your cup of white coffee at Dutch Bros, let us tell you it is possible. You can have a personalised cup of white coffee to start your day with a boost of energy.
From the coffee grind to added flavour combo, you can choose anything. You can also select the size of the cup from the menu. All you need to do is mention your choices to the Dutch Bros representative, and your desired white coffee will be there within no time.
The Different Types of Dutch Bros White Coffee
Once you go through the Dutch Bros menu, you may experience the problem of plenty. There are some must-try white coffee drinks that you would love to have.
Dutch Bros White Coffee Jelly Donut Oat Milk Tree
You can show your love for donuts with this drink—a perfect blend of raspberry, caramel, and your choice of jelly-filled pastry.
Toasted Mellow Oat Milk Latte
The pairing of vanilla and chocolate macadamia over a white coffee base makes this drink special.
White Coffee Crunch Breve 
This drink is a match made in heaven. This white coffee variant is made by mixing the flavours of strawberry and hazelnut.
White Coffee Hazelnut Mocha 
You will taste the super creamy chocolate and hazelnut with every sip of this drink.
Dutch Bros White Coffee Coconut Chai Latte 
The drink comes with a twist, as it is a perfect conglomeration of nutty flavour and the unique taste of coconut mixed with chai.
Making White Coffee at Home 
After tasting the unique and mesmerising taste of white coffee at Dutch Bros, if you are planning to make a cup at home on your own, then you should give it a shot, and we are here to help you with that.
First, talk about the most popular drink, the white mocha. Mix white chocolate sauce, chocolate milk, and cold brew for a few minutes to create a perfect cup of white mocha.
If you want to try something more exciting, create an oat milk white chocolate lavender latte. You can drink it hot or cold based on your mood. To prepare it, you must mix white chocolate sauce, lavender syrup, oat milk, and white espresso.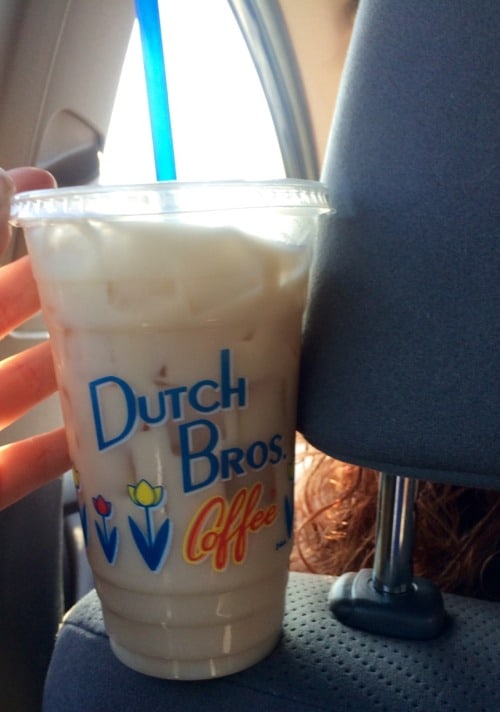 How to Order White Coffee at Dutch Bros
As we all know, Dutch Bros is a drive-through coffee chain run by a private organisation. You need to place your order while driving through one of their outlets by closely examining the menu. Select the perfect cup of white coffee according to your taste and preference.
You can choose the type of milk you need in your coffee and the flavours you need to add to make the perfect cup of coffee to start your day. Last but not least, depending on your choice, select the cup size to complete your order. Your order will get delivered within 10 minutes of placing the order.
Conclusion
When we mention the term white coffee in different corners of the world, the drink changes in shape and form. But when we talk about white coffee made by Dutch Bros, it comprises lightly roasted coffee beans. The vast range of white coffee products available made Dutch Bros so unique among the people of the USA.
So, if you like experimenting with your coffee, try white coffee from Dutch Bros today. If you already enjoy that, keep experimenting with your choices. You can even try making a cup of white coffee like Dutch Bros at home.
FAQs
1. What sizes are available for Dutch Bros White Coffee?
Ans. To satisfy your needs, Dutch Bros offers various sizes of coffee cups. The size of these cups ranges from 8 oz to 24 oz.
2. Is there a menu for Dutch Bros White Coffee?
Ans. The answer to your question is yes. For every customer, the Dutch Bros menu has something. Whether you are looking for something basic to start your day or want something exciting at the very beginning of the day, you will get that right here at Dutch Bros. Every drink is unique, and here are the options for you to try.
White Coffee Mocha

White Coffee Hazelnut Mocha

White Coffee Jelly Donut Oat Milk Latte

White Coffee Coconut Chai Latte

White Coffee Toasted Mellow Oat Milk Latte
White Coffee Dutch Crunch Breve
3. What type of milk is used in Dutch Bros White Coffee?
Ans. Dutch Bros add milk to their coffee depending on the customer's choice. You can choose between two variants. You can select 2% milk or go for a healthier alternative in nonfat milk. Vegans can add Almond, oat, or coconut milk to their coffee.
4. Is Dutch Bros White Coffee vegan-friendly?
Ans. Dutch Bros is for everyone. You can get vegan-friendly products at Dutch Bros. They will prepare your coffee with non-dairy products such as oat, coconut, or almond milk.
5. Does Dutch Bros offer discounts on their white coffee drinks?
Ans. On special occasions, Dutch Bros offer discounts on their white coffee drinks, and there are also days when the coffee chain gives away their products for free.
Also Read:
What is Dutch Bros Dinosaur Egg?
Where to find Golden Eagle Dutch bro?
Benefits of Soft Top Dutch Bros
What is Dutch Bros Dinosaur Egg?