Oat milk has grown in popularity among coffee and tea lovers searching for a non-dairy alternative that is both creamy and tasty. Starbucks, one of the world's largest coffee businesses, has recently joined the oat milk bandwagon. This blog will cover all details about oat milk, the nutritional facts for Starbucks' oat milk, and why Starbucks utilizes it in its beverages.
What is oat milk?
Oat milk is thought to have developed in Sweden, with the 27-year-old firm Oatly leading the way. Oat milk is made from soaking oats that have been mixed and filtered. Many oats' nutrients stay in the milk, and the tiny particles give it a creamy mouthfeel. Unflavored oat milk has a little oat flavor.
How is oat milk made?
Commercial oat milk is prepared by mixing oats with water and grinding the mixture into a fine texture. To break down the oat starch, enzymes are introduced. The bran particles are then separated from the liquid base. Before packing, additional flavorings and additives are added, and it is heat-treated to improve its shelf life. Oat milk may also be created at home using a cheesecloth or nut milk bag to filter.
Oil (typically sunflower or canola/rapeseed oil) is added to boost commercial oat milk's fat content and mouthfeel. Sugar or flavorings are occasionally added as well. The milk is supplemented with minerals and vitamins to improve its nutritional profile.
What oat milk does Starbucks use?
They utilize Oatly's gluten-free, silky, and creamy oat milk. As a result, Oatly Oat Milk is utilized in a variety of Starbucks beverages.
Oatly Barista Edition oat milk is a crucial ingredient in all Starbucks locations. This oat milk is specifically designed for coffee and espresso beverages, making it the best option for people looking for a dairy-free alternative to regular milk.
Does Starbucks sell oat milk?
No, Starbucks sells oat milk as a dairy substitute. They began selling oat milk in specific locations in the United States in early 2020, and it has since been expanded to most of their stores in the United States and Canada. 
In addition to regular milk and soy milk, Starbucks offers oat milk as a non-dairy option. You may request beverages made with oat milk at each Starbucks store, such as lattes, cappuccinos, and Frappuccinos. Starbucks now sells oat milk as a stand-alone menu item so that you can order a cup independently.
Why Is Oat Milk So Popular in Coffee?
Oat milk has grown in popularity as a dairy-free option in recent years. Oat milk has become a popular plant-based milk option among coffee drinkers for several reasons.
To begin with, it has no cholesterol and is low in saturated fat, making it a heart-healthy choice.
Furthermore, it is a fantastic source of fiber and vitamins, including vitamins A and D, providing some obvious health advantages.
Finally, because it is manufactured simply by soaking oats in water, it is a renewable resource, making it more ecologically sustainable than conventional milk, almond milk, soy milk, or other non-dairy choices.
With all these advantages, it's no surprise that it's become the preferred milk substitute for many coffee drinkers.
What brand of oat milk does Starbucks use?
Starbucks offers Oatly brand oat milk as one of its plant-based milk alternatives. Oatly's milk complements Starbucks' famous espresso drinks, such as the Honey Oat milk Latte. Oatly Original Oat milk has 2% fat and is perfect for smoothies or as a chilled drink without additions. Oatly has created 3% Barista Edition Oat milk, which has more excellent fat content and easily foams in hot drinks.
The Swedish oat milk brand has been known worldwide since the 1990s, notably before what Starbucks calls a plant-based revolution. Starbucks also picked Oatly because the brand is consistent with its long-term mission of environmental preservation. Oat milk has recently acquired appeal among people concerned about the environmental impact of their everyday coffee use.
Is it possible to order drinks with oat milk at Starbucks?
You might be wondering if you can get oat milk beverages at Starbucks. Yes, you certainly can! And its popularity is rising.
Starbucks now has dairy-free oat milk for your favorite hot and cold drinks. You may now have your favorite Starbucks drink made with this healthier option instead of dairy milk, whether a hot latte with steamed oat milk or an iced cappuccino.
Starbucks' regular menu includes a variety of beverages created using non-dairy milk. The Iced Brown Sugar Oat Milk Shaken Espresso and the Honey Oat Milk Latte have been two of the most popular selections in recent years.
However, oat milk may not be accessible everywhere for your coffee drink. So, the next time you want a Frappuccino or Latte, ask if they offer Oatly Oat milk. You're in luck if they offer the Honey Oat milk Latte on their menu.
If you know your local Starbucks has dairy milk alternatives, simply request your favorite drink. By adding the phrase oat milk to your order, you may have oat milk lattes, venti oat milk frappuccino, or any of your favorite coffee drinks.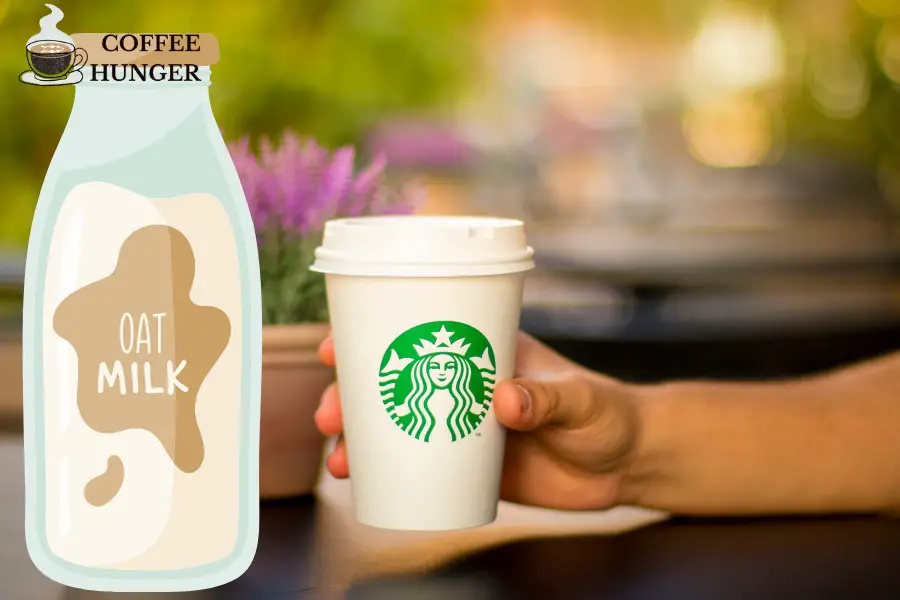 Nutritional Information of Starbucks' Oat Milk
The following is the nutritional information for eight fluid ounces (240 mL) of Starbucks' Oat Milk:
| Nutrient | Amount |
| --- | --- |
| Calories | 130 |
| Total Fat | 5g |
| Saturated Fat | 0.5g |
| Trans Fat | 0g |
| Cholesterol | 0mg |
| Sodium | 100mg |
| Total Carbohydrates | 16g |
| Dietary Fiber | 2g |
| Sugars | 7g |
| Protein | 3g |
| Vitamin D | 0mcg |
| Calcium | 350mg |
| Iron | 1.8mg |
| Potassium | 350mg |
Note:
Oat milk is a plant-based milk alternative made from oats and water. It is a good source of calcium, fiber, and iron.
The nutritional information for a larger size of drink may contain more calories, fat, sugar, and other nutrients.
These advantages contribute to a healthy digestive tract. If you are lactose intolerant, oat milk is an excellent dairy replacement. It's worth noting that the nutritional content may differ significantly based on the kind and brand of oat milk Starbucks uses. This information, however, can serve as a basic guideline for the nutritional value of Starbucks' oat milk.
Compared to dairy milk, Starbucks' oat milk has fewer calories and fat. It is an excellent choice for people who limit their calorie intake and fat consumption.
Starbucks' oat milk contains calcium and iron, essential for bone health and combating anemia. It also contains a lot of fiber and vitamin D.
Why does Starbucks Uses Oat Milk?
Starbucks utilizes oat milk as a dairy substitute since it has become an attractive option for customers seeking non-dairy alternatives. Oat milk has a creamy texture and a somewhat sweet taste, making it an excellent replacement for conventional milk in coffee beverages.
Furthermore, oat milk is considered a more sustainable alternative than dairy milk since it takes less water and land to manufacture. Oat milk is also high in fiber, vitamins, and minerals, making it a healthier choice for specific individuals.
Finally, Starbucks' adoption of oat milk is likely motivated by rising customer demand for plant-based milk substitutes. By selling oat milk, Starbucks is catering to a broader spectrum of consumers searching for non-dairy alternatives for health, ethical, or environmental concerns.
What Types of Oat Milk Does Starbucks Use?
Starbucks employs its unique mix of oat milk known as "Oatly," intended exclusively for coffee and tea products. This gluten-free oat milk is designed to froth effectively, giving coffee and tea beverages a creamy texture.
Starbucks now provides a selection of non-dairy milk choices for customers with varying dietary demands or preferences. Soy milk, almond milk, and coconut milk are among the alternatives. However, due to its creamy texture and mild flavor, oat milk has been a popular alternative in recent years, making it an excellent replacement for dairy milk in many coffee and tea beverages.
FAQs about Starbucks oat milk
1. What oat milk does starbucks use in Canada?
Ans: Starbucks employs the same proprietary oat milk mix known as "Oatly" in Canada as it does in the United States. Oatly is designed to froth effectively, providing coffee and tea beverages with a creamy smoothness. It is created from gluten-free oats and is a popular non-dairy choice for clients searching for a creamy and tasty substitute for dairy milk. Customers in Canada may order oat milk-based beverages such as lattes, cappuccinos, and Frappuccinos, as well as a cup of oat milk on its own.
2. What oat milk does Starbucks use in the UK?
Ans: In the United Kingdom, Starbucks provides a range of oat milk alternatives. Starbucks sells both the traditional Oatly oat milk and the Barista Edition oat milk.
3. Which oatly does Starbucks use?
Ans: Two varieties of Oatly oat milk are available now: Oatly Regular and Barista Edition Oatly Starbucks use Oatly, notably the Barista Edition kind. Aside from having a creamier texture, Barista Edition is much less expensive than ordinary Oatly.
4. Does Starbucks use unsweetened oat milk?
Ans: Yes, Starbucks oat milk contains natural sugars, which give it a little sweet flavor. If you're concerned about the sugar level of your oat milk drink, Starbucks doesn't add sugar unless you specifically request it.
5. Is Starbucks oatmeal healthy?
Ans: Starbucks oatmeal is delicious because it is crafted with 100% whole-grain rolled oats, which are high in nutritional fiber and help you feel fuller for longer. It also has a variety of mix-ins, including dried fruits, nuts, and seeds. 
The oatmeal and mix-ins give a superb flavor and texture and an excellent dose of essential vitamins and minerals. Furthermore, all the oats provided at Starbucks are vegan, making them ideal for people on a plant-based diet or searching for plant-based choices when eating out. Because the muesli is low in calories, it's a good choice for people searching for a light but substantial breakfast or snack.
Conclusion
Finally, oat milk has become an increasingly common non-dairy alternative for coffee and tea lovers. Starbucks has recognized this trend by introducing its unique mix of oat milk, "Oatly." When compared to dairy milk, the nutritional statistics for Starbucks' oat milk reveal that it is a better and more sustainable alternative. Starbucks' choice to employ oat milk demonstrates its dedication to adapting to its consumers' shifting demands.
Also Read:
Does Starbucks have Decaf Iced Coffee?
How to get Starbucks W2 Online?